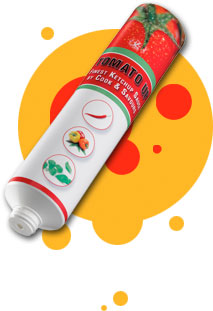 Tube heading for plastic tubes
PTH plastic tube barrier heading using Bacomex™ compression moulding technology
In the production of seamless extruded plastic tubes, the moulded shoulder is known for being the weakest part where oxygen can enter and aromas escape. Bacomex™ multilayer compression moulding technology is an efficient barrier protection embedded into the entire tube head.
Unique Sales Proposition:
Technology based on evolutionary PTH equipment
One step moulding and assembly process
Cost competitive
Unchanged shoulder design and no process waste
Opens new opportunities for plastic tubes
Potential for higher margin tubes
Offers extended shelf life packaging for sensitive products

Aisa Plastic Tube heading machines PTH 200, PTH 150, PTH 100 and PTH 60.

Output from 60 to 200 tubes/min.
Market applications:
Food
Pharmaceuticals
Natural or preservative free cosmetics
Packaging example:
Plastic tube 300 ml, diameter 50 mm
Co-extruded tube sleeve
Bacomex™ multilayer tube head
Intellectual property:
International patents pending. Licensed machine supplier and user license for producer.
Industrialisation:
After moulding, the multilayer plastic part is cut and iodine is applied in order to visualise the embedded EVOH barrier layers which are otherwise transparent.
Packaging performance:
Oxygen permeation




Oxygen Barrier Improvement Factor =12
> Standard co-extruded tube: 0.022. ccO2/pack/day/atm
> Bacomex™ tube: 0.0020 ccO2/pack/day/atm
Aroma Barrier Improvement Factor >100